The "2022 Outstanding IP Managers in China" award was presented to more than 30 winners at the awarding ceremony of the 13th China IP International Annual Forum. It has been an important award since the establishment of the China IP Awards in 2012. Up to now, more than 200 outstanding IP managers have won this honor. This year the award includes two categories: "Excellent" and "Outstanding".
Application of the award, which officially started on September 29, 2021, has attracted the participation of more than 100 IP managers from private, state-owned, and foreign-funded enterprises, among whom 7 "Outstanding" winners and 24 "Excellent" winners were selected. The name list of the winners is as below (ranked according to alphabetical order):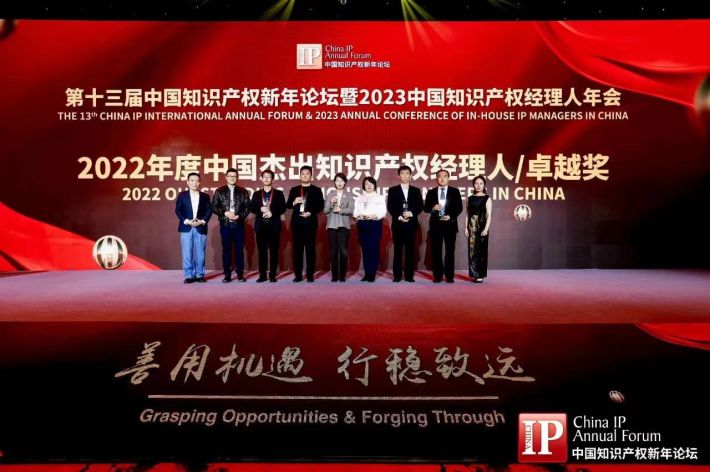 Outstanding:
►Bai Li(白莉)
Research Institute of China Mobile Communication Co., Ltd.
►Miao Qian(缪谦)
STATE GRID INTEGRATED ENERGY SERVICE GROUP CO.,LTD
►Sun Gu(孙谷)
Li Auto Inc.
►Wang Binhou(王滨后)
Haier Group Corporation
►Wang Miao(王淼)
Qingdao Haier Technology Co., Ltd.
►Zhao Xing(赵星)
China National Petroleum Corporation
►Zheng Yongfeng(郑永锋)
Tasly Holding Group Co., LTD.
Excellent:
►Fan Ye(范晔)
Sina.Com Technology (China) Co. Ltd.
►Gao Guoya(高国雅)
MIDEA GROUP CO., LTD.
►Hu Jianghai(胡江海)
Nuctech Company Limited
►Huang Pengfei(黄鹏飞)
Shenzhen Smoore Technology Limited
►Huang Taiming(黄泰明)
Amicro Semiconductor Co., Ltd.
►Jian Fan(简繁)
Pusheng Food (Beijing) Co., Ltd.
►Jiang Ce(蒋策)
Dreame Technology (SuZhou) Co., Ltd.
►Ke Changzhen(柯常振)
Tineco Intelligent Technology Co., Ltd.
►Li Wenqi(李文奇)
Guangzhou Xaircraft Technology Co., Ltd.
►Li Wenfei(李雯斐)
Beijing Kuaishou Technology Co., Ltd.
►Liu Bin(刘滨)
Xiamen Tungsten Co.,LTD.
►Liu Zhe(刘哲)
HUMANWELL HEALTHCARE(GROUP) CO., LTD.
►Pang Jiyong(庞继勇)
PowerChina SEPCO1 Electric Power Construction
►Song Jiangtao(宋江涛)
Zhuhai CosMX Battery Co., Ltd.
►Wang Fucheng (王富成)
Hangzhou First Applied Material Co.,LTD
►Wang Jie(王洁)
Kunlunxin (Beijing) Technology Co., Ltd.
►Wang Jun (汪俊)
S.C. Johnson & Son, Inc
►Wang Sijia(王思佳)
Hanhai Information Technology (Shanghai) Co., Ltd.
►Wu Jianhao(吴健豪)
TCL Industries Holdings Co., Ltd.
►Yuan Jing(袁静)
CASCO SIGNAL LTD.
►Zhang Yongqi(张永其)
Yutong Bus Co., Ltd.
►Zheng Haiwen(郑海文)
GREE ELECTRIC APPLIANCES, INC. OF ZHUHAI
►Zhou Fei(周菲)
Beike Zhaofang (Beijing) Technology Co., L
►Zhou FengChun(周凤春)
Phoenix Contact Asia Pacific (Nanjing) Co. Ltd.