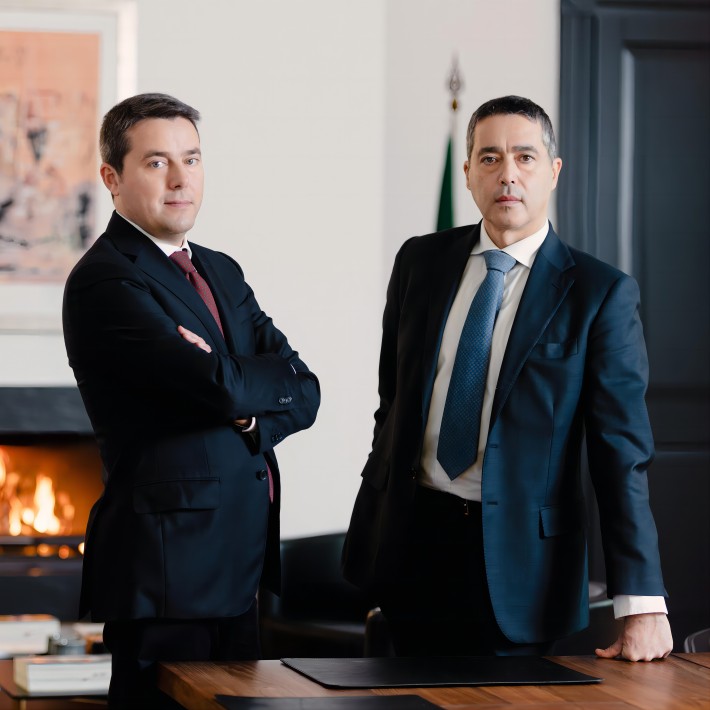 Daniele Giovanni Petraz(Left)
Davide Luigi Petraz(Right)
Founded in 1967, GLP Intellectual Property Office is a boutique intellectual property agency headquartered in Italy. Currently, GLP has more than 7,200 clients around the world, including fortune 500 companies, and manages an IP pool of more than 90,000 cases. GLP's focus on high-standard services has gained the firm long-term trust of clients coming from various regions and industries.

With 55 years of IP service history, GLP has expanded its business scope from Europe to all around the world. However, such expansion is by no means at the cost of service quality. Instead, the firm has been known for its five founding values: "service quality", "timely professional advice", "strategic practicality", "dedication", and "the ability to achieve goals for its clients", which help GLP to stand out among the European market where there are a great number of prestigious IP law firms.
GLP has been listed as "Recommended International IP Agencies" by China IP Magazine for two consecutive years from 2021 to 2022. Recently, Mr.Davide Luigi Petraz and Mr.Daniele Giovanni Petraz, two managing partners of GLP, were invited to share with us their views on the latest developments of intellectual property in Italy and Europe, as well as the secrets of GLP's success over the past 55 years.
Q: Listed as the "Recommended International IP Agencies" for two consecutive years, GLP has attracted the attention of more and more Chinese enterprises and peers. Could you take this opportunity to talk about the origin of GLP building its connection with China?
A: GLP's connection with China can go back to 1979, which was also the drafting year of China's Patent Law and was when GLP started working with the China Trade Mark Council to provide IP consulting services for Chinese companies that were actively going abroad at that time. In 1989, GLP distinguished itself as the first IP firm in Europe to receive the official Chinese delegation of the newly created Chinese Patent and Trademark Office (today's CNIPA). GLP discussed with the representatives the development of intellectual property in China in the Udine office, Italy. Besides, the parties actively explored cooperation opportunities, which was recorded in the newspaper (see the picture below). The picture is blurred but the determined expressions of the characters are still visible. This precious communication opportunity is regarded by GLP as an important milestone in establishing communication with the Chinese market, and it gives GLP the mission of providing quality service to our Chinese customers.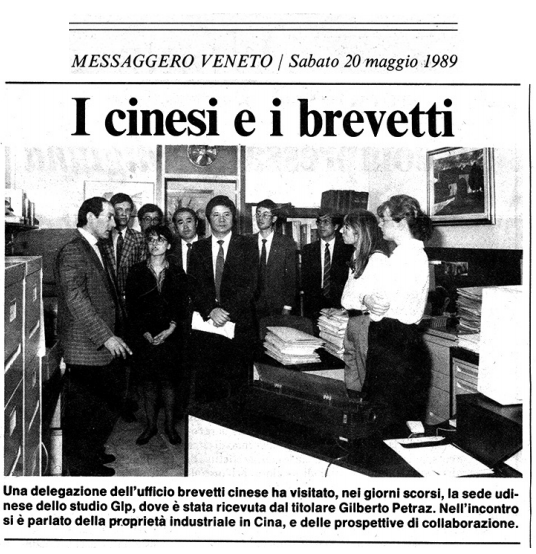 Q: GLP is known in Europe for its high-standard IP service. How does GLP define this "high standard"?
A: GLP values reputation. We deeply understand the value of intellectual property as intangible assets, and know very well how to make use of intellectual property assets to support the sustainable development of enterprises and cause continuous pressure on competitors to win the market. High-standard service is an important step toward the development and implementation of high-quality IP strategies. It can be represented as: standing in the customer's perspective and fully understanding the needs, paying extreme attention to details, offering timely, accurate and customized service, showing excellent professional ability, as well as valuing moral integrity.
Q: The concept of "long-termism doctrine" has been popular in all industries in recent years. How does GLP, as an established intellectual property agency, define and practice the doctrine?

A: In the development course of GLP, long-termism means to be vigilant against traps of negligence and the temptation of opportunism. For more than 50 years, GLP has been a committed practitioner of long-termism. We have been adhering to the business concept of offering high-quality service, and eventually, with such strategic concentration, the GLP name remains refreshed in more of our clients and peers.
Q: At present, the pandemic and the unstable global trade environment have brought more challenges to the intellectual property service agencies. How does GLP respond to such challenges?
A: We still believe that long-termism is the right answer across the times. Those who can resist uncertain risks are all veteran practitioners of long-termism. They abandon speculation and short-sighted profits to create all possibilities for sustainable development. In the face of market uncertainty, GLP, under the belief of long-termism, will keep sober, continuing to offer high-quality services in accordance with the market environment changes. As a veteran practitioner of long-termism, we have mastered these basics and also consider them as our fundamental values, which are being improved by our clients who constantly provide support, suggestions and assistance to us.
Q: How is GLP's business currently doing in China? What are the plans and goals of GLP in the Chinese market?
A: GLP has had a long and fruitful connection with China for many years. We have been alongside Chinese companies for nearly 30 years supporting them as their European IP Partner. Over the years, we have collaborated with more than 60 Chinese IP Firms and 450 Companies. To date, GLP has filed several thousand of cases in China for Italian Clients and more than 1,100 Italian or European patents for Chinese Clients. GLP has witnessed China's growth into the world's second-largest economy since its reform and opening up and will continue to support the development of our Chinese clients. As a well-known Chinese saying goes, "The road ahead is long; I see no ending, yet high and low I'll search with my will unbending." GLP will never change our original intention. We will keep striving to offer high-quality services to our customers and explore ways to provide better services in accordance with the market changes. It can be predicted that the growth of Chinese companies in Europe in the next five years will be very significant and our goal is to grow together with them.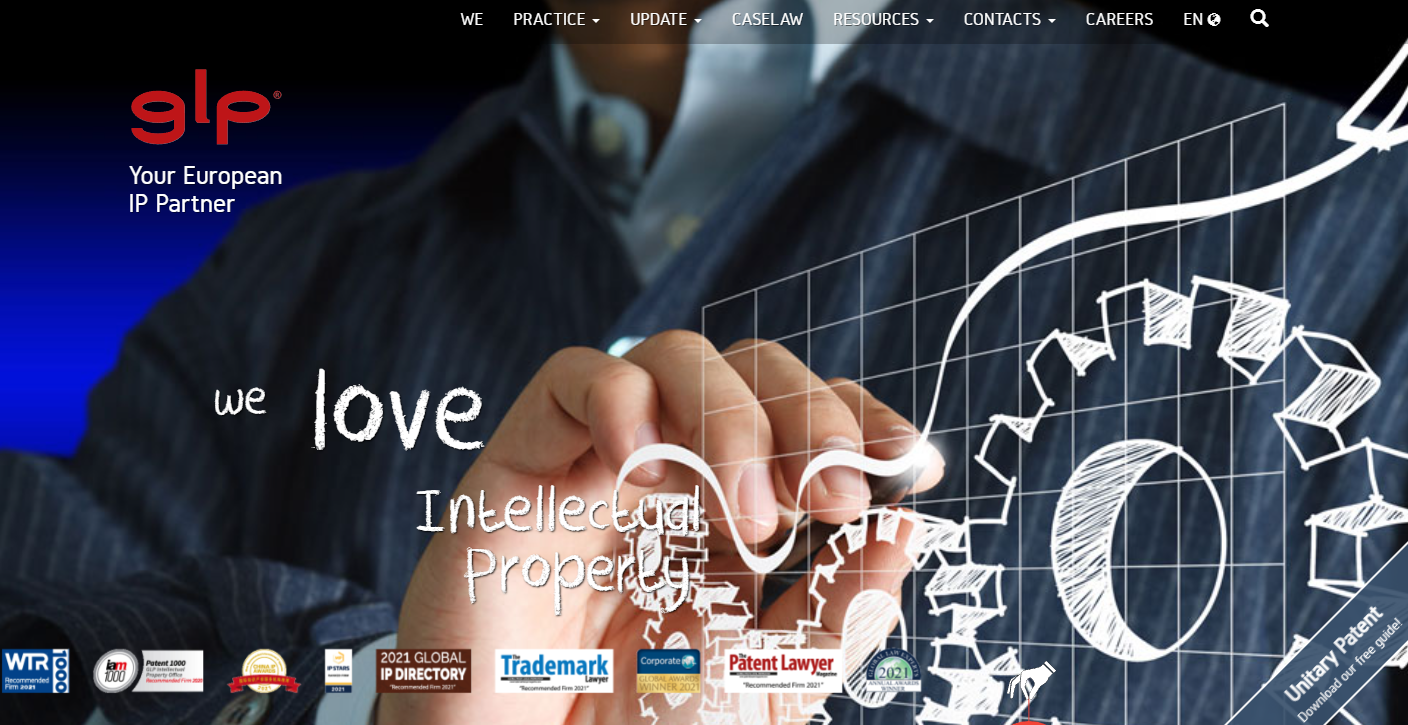 Q: In the process of entering overseas markets, Chinese enterprises desiderate strong partners to provide support and guarantee for their business. What do you think are the main reasons for your Chinese customers and partners to choose GLP?
A: We are confident with the dynamics of the international market as well as being profound connoisseurs of intellectual property. We have had a presence in Asia for almost thirty years, and especially our knowledge of the Chinese market allows us to be trusted also by Chinese companies.
Q: Intellectual property originated in the Italian Renaissance, as it were, Italy has the longest history of intellectual property development. How does Italy integrate into the international intellectual property system in terms of legislation and administrative supervision?
A: Italy has a strong history and a pure vocation for innovation. Alignment with international regulations has been operational for many years, leading to a familiarity of the rules and their application for all global companies. The interpretive ability of judges and practitioners in IP is given by rulings and practices that are then followed in other European countries.
Q: Compared with other EU countries, do you think Italy has stricter protection of intellectual property? What measures will the regulatory authorities take for intellectual property infringement?
A: The Italian legislative structure, especially in courts with more practice is very performant for those who want to attack by counterfeiting. The procedure in Italy is therefore very fast if one reasons for the practical and commercial effects since an enforced injunction immediately brings practical effects to the company that requested it.
Q: What impact do you think the implementation of the Unitary Patent will have on the protection of intellectual property rights in Europe?
A: We are talking about a reform that involves Europe and therefore wants to standardize a system that will have to take effect and will need to consider new IP Management strategies for each company depending also on its size and strength in the market. There are certainly pros and cons without forgetting that with this reform it will be necessary to balance strategies to avoid the risk of invalidation of a patent may be immediate, losing the extension in 17 countries on the European territory, and considering the related costs that this means.
Q: The main purpose of the Unitary Patent System is potentially to reduce application and management costs of community patents in the region, and simplify the patent acquisition procedure. Do you think the successful establishment of the Unitary Patent System and Unified Patent Court will lead to large-scale patent applications and grants in Europe?
A: The advantage of UP and UPC is not the lower costs or the assumed uniqueness, because the costs under certain conditions are significantly higher than the traditional practice. It must be considered, however, that if some European regulations are uniform, most are not, and also the single market is not properly so because of the conformation of European companies. Undoubtedly, the advantage will be in favor of large international companies that will have greater ease of management than SMEs.
Q: More and more Chinese companies have laid out intellectual property rights in Italy in recent years. Do you have any practical IP advice for Chinese companies as they plan to enter the Italian market? What trends do you observe in terms of China's intellectual property application in Italy? Which industries will be focused on in the coming years?
A: Chinese companies are certainly interested in filing their IP rights in Italy, but at the same time they are aware of the importance of protecting all of Europe. Italy is definitely one of the best gateways for this purpose. There are sectors, consistent with European statistics, that are of strong interest ranging from digital, medical and computer technology or such as transportation, the energy sector and biomedical.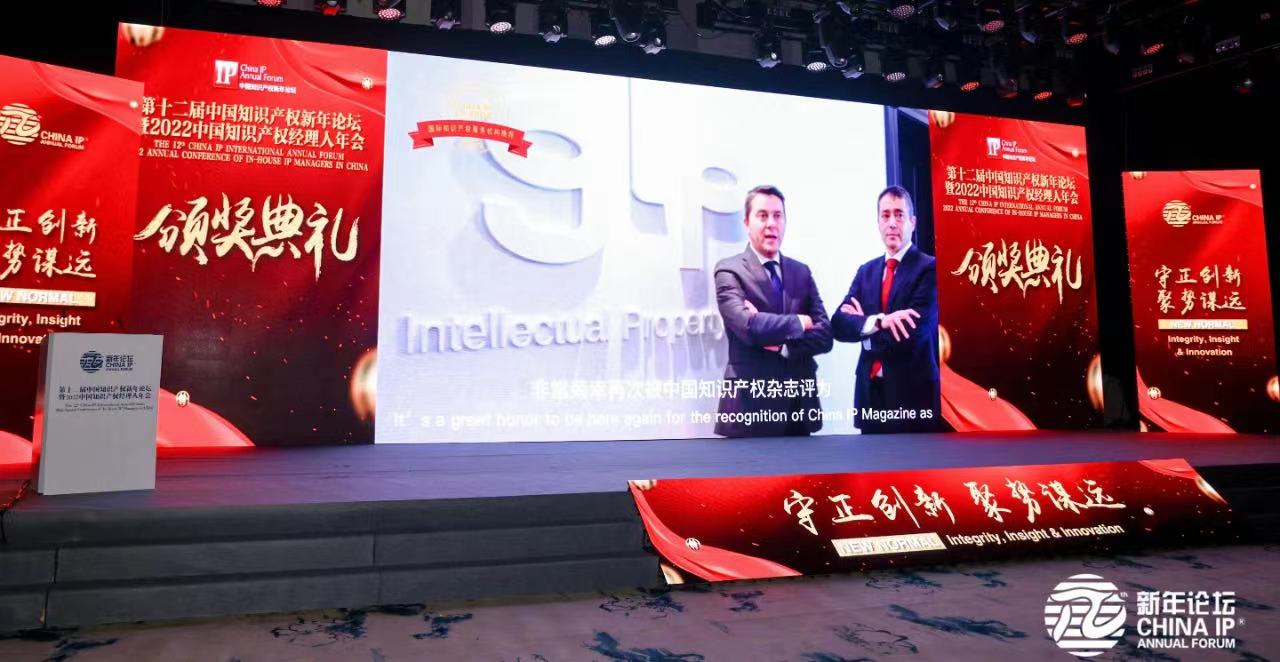 Q: As a winner of the Recommended International IP Agencies award, GLP stands out for its cross-cultural communication ability, one of the most important measuring factors of the award. What are the cross-cultural communication abilities of GLP?
A: Curiosity, open-mindedness, and a strong dedication to the knowledge of intellectual property in all its facets, as well as to the various needs that affect a strategy based on an international dimension.
Q: The case written by GLP was included in the EPO's "Guide to European Patent Application-How to Obtain a European Patent". What do you think of this achievement? Does this represent the highest level of patent application recognized by the authority?
A: There is no way to be selected for this type of publication. When we found out that one of our patents was taken as an example by the most important European office, we were very surprised but above all proud. Quality for GLP is one of the most important aspects and is our hallmark. Over the years, our other patent texts have also been used in the study manuals to become a European patent attorney. We are proud that our dedication to quality is consistently appreciated, and we always aim to improve ourselves.
Q: As a leading intellectual property agency, GLP has made contributions to the development of the intellectual property industry in Italy, even in Europe, including developing and launching the EU IP Codes, could you tell us what is EU IP Codes?
A: GLP launched the EU IP Codes in 2012, the first-ever mobile app to consult all the European and Italian regulations on Industrial Property in one place. In 2019, we released a new version with many additional features, capable of keeping update the users on all the latest trends of IP, without any costs.
Q: GLP has been engaged in the intellectual property business for more than 50 years. In your opinion, what is the most attractive part of intellectual property work?
A: The pursuit of perfection, which is continuous and never achieved. The detail - different from time to time - makes the difference and it is necessary always to have a neutral and not pre-established approach to grasp it. What's more, we also view IP as a strategic tool that could change the shape of the companies' future. What makes the difference is thinking with the Client's head, contaminating one's knowledge with legal regulations, finance, business management, and being able to systematize it all into innovative strategic solutions. IP work is so attractive that it attracts a large number of practitioners, including us.
For more information, click here to visit the official website of GLP.